Moodunit Lab gives your company or product an image and a personality with a personal no-nonsense approach drawing the attention of your target group.

We take care of your corporate communication in the broadest possible sense: stands, showrooms, packaging, displays, corporate styles, etc.

We grasp your story and tell it in such a way your customers will understand you perfectly.
Moodunit Lab specializes in stands that are slightly out of the ordinary.
We are the architect of your story, we create the environment in which your brand comes to full fruition, the environment in which customers feel welcome to get to know your company and products.
Moodunit Lab builds more than just a stand. We design and construct the architecture for a full range of 3D-communication. Moodunit Lab stands for 'total image', a complete representation of what your company wants to communicate.
A strong brand deserves a strong branding. Moodunit Lab represents crystal clear communication of your brand. Displays and packaging, websites, print, stationary, or even a complete corporate image, we will reveal your essence to the public. Moodunit Lab stands for a hands-on creative approach.

Your message will be immediately received by the right creative person and will not be diluted by any sales or account manager. No detours, no distractions, just a perfect synergy between our creativity, your brand and your communication.
SHOWREEL
A short movie clip to see what Moodunit Lab can do for you? Click here! No need to get the popcorn out, but do sit back, relax and enjoy!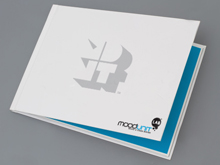 FOLDER
The book is always better than the film? No problem! Click here to download our folder giving you insight as to how Moodunit Lab could work to your benefit.